The only safe off-road ATV. For kids.
The 3-speed safety governor lets you easily control speed. So you don't have to worry about your kids riding too fast. Or falling off.
---
Our daughter uses it all the time, and has a blast. It can either go pretty slow, or super fast. Since she's 4.5 years old, we keep it on the slower setting (always with a helmet).
- Wade
Ride for hours. Not just 15 mins.
No more worries about battery-life. Ride up to 2 hours on a single charge. Achieve top speeds of 13 mph with the powerful 500W/800W motors.
---
It has worked like a charm and the battery keeps a great charge to it so he can just run out and ride it around whenever he feels like it.
- V.Spoone
Ride through dirt and snow. Using real ATV components.
Large real rubber tires (10") provides better traction, better stability and higher ground clearance. Shock suspension makes it less bumpy and it is less likely your child can fall.

No more getting stuck in the middle of the road.
---
A lot more power than the 12v or 24v. My 6 year old daughter loves it. Her old 12v would not go up the hills well but this one he's no trouble.
- Eric Robinson
Easy assembly. Dedicated customer support.
The ATV comes 95% pre-assembled. Our illustrated instructions manual and
video
makes assembly a breeze. And if you need extra help, our live customer support line is
one click away
.
---
The front cowling and headlight were damaged during shipping. I contacted the seller and they immediately sent replacement parts for free. Couldn't ask for better customer service than that.
- Chris
Small in Size, Big in Power
The Rosso Motors Kids Army ATV is the ultimate electric quad for children ages 3 - 8 years.

Featuring a 36V battery and 800W motor, it boasts the best power and range for an electric ATV in its category. The Rosso Motors Kids ATV is sleekly designed to be a miniature version of "grown-up" ATVs such as the Yamaha Grizzly, Polaris Sportsman or Can-Am Outlander to give your kids the excitement of real ATV riding in their own backyard, so they can look and feel just like mom and dad!

The Rosso Motors Kids ATV is strongly built with many advanced specifications including big all-terrain rubber tires, aggressive front & rear utility racks, dual LED headlights and a shock absorbent suspension package. Additionally, to ensure the safest riding experience for your child the unit has enhanced safety features such as a disc brake system and 3-speed governor with reverse, which maximize stability and control.
Product Comparison
To create more fun and a safer riding experience for your child, the Rosso Motors Kids ATV has many upgraded specifications and safety features compared to the standard toy ATVs on the market.
| | Rosso Motors Kids ATV | Standard Toy ATV | Outcome |
| --- | --- | --- | --- |
| Battery | 36V | 12V or less | Rosso ATV has more power and speed, as well as a longer range per charge |
| Tires | Inflatable Rubber (10" diameter) | Plastic | Rosso ATV has better traction and stability, as well as higher ground clearance |
| Brakes | Disc Brake System | Drum or No Brakes | Rosso ATV has enhanced stopping ability making it much safer |
| Suspension | Shock Absorbent Suspension Package | No Suspension | Rosso ATV is a much smoother ride |
| Speed Governor | 3-speed with reverse | 1 or 2-speed with no reverse | Rosso ATV is safer for young children |
Recommended Ages
Weight Capacity
Battery
Power
Top Speed
Transmission
Maximum Range
Charge Time
3 to 8 years of age
90lbs (40kg)
36V (3x12V) / 12AH lead acid
800W
13mph (20km/hr)
Electric 3-speed with governor
Up to 2 hours
6 hours for a full charge
Reverse
Brakes
Tires
Wheel Base
Seat Height
Ground Clearance
Product Dimensions (L x W x H)
Net Weight
Yes
Disc
4.10-6 inflatable (11.5" diameter)
28" (71cm)
19" (48cm)
4" (10cm)
39" x 22" x 28"
110lbs (50kg)
SAFE & RELIABLE
Strongly built with many advanced specs and extra safety features
LOWEST PRICE
We offer the lowest everyday prices
FAST & FREE SHIPPING
Fast, trackable and free shipping
HASSLE FREE RETURNS
30-day money back guarantee
Show your kids the joys of the great outdoors
Customer Reviews
08/09/2020
Justin O.
United States
Very Happy Toddlers
This was perfect for our toddlers. They rang from 2 and a half to 3 and a half years old and with the adjustable speed limiter this is perfect! After buying our first one my sister in law got one right after. Freight was slow (due to COVID) but the support was awesome. The boys love it!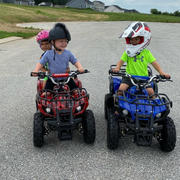 07/07/2020
Montserrat G.
United States
Great purchase
We had the Quad X since April and it was a great purchase, my neighbor has one and my son loved it. We gave it to him as a bday present and he loves it. It comes with a 3 speed governor that you can switch with a key. It also has a key fob that it's super cute. Very sturdy and well made. It doesn't look or feel cheap or flimsy.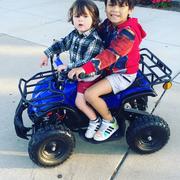 06/17/2020
Anonymous
United States
Love the quad!!
We love the quad, battery life is great the only things after driving it a few months that could be improved are the turning, which is not great, (it tends to want to track straight and turning radius is poor), and suspension is stiff. Both to be expected on a little quad but overall we like it and the quality is much better than others out there!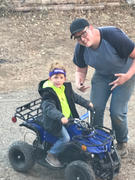 Best electric ATV by far!
I just purchased this ATV for my four year old as a replacement birthday present. I bought him, what we thought, was a pretty cool electric Jeep. Well after three days it broke down and we cannot figure what happened. We are assuming something electrical. Tried to return it and of course could not get in touch with the manufacturer... So I basically just had to eat the 500 dollars I had just spent and just go get him a new ride on. So I put a lot of time and research into this purchase. And I will tell you what, his ATV is WAY cooler than the Jeep, and my son absolutely LOVES it! When I first placed my order, I received an email thanking me for my purchase, out of curiosity, I decided to email back and to my surprise about a half hour later I got yet another response to my email! Meaning, I was actually chatting with a real person! Which was clearly amazing news considering what I had just went through. I am thoroughly impressed with the over all make and look of this ATV and it runs for right around two hours on the medium speed before it needs a charge! The key fob is neat, as it gives my son the feeling of having the real deal! I honestly am so happy with my purchase and if I ever am going to buy something like this again, it will be from Rosso Motors 100%! Thanks for doing what you guys do, and doing it so well! I have one very thrilled four year old, and that makes my heart very happy!
06/08/2020
Patrick C.
United States
800w atv well done
The package came in one piece. Was very easy to set up. My little man got help put it together. And he rode it like he had been on it for years. Thank you soo much for your great product. I think I almost enjoy it mor than he does. Lol thank you much!!!!