The only safe off-road ATV. For kids.
The 3-speed safety governor lets you easily control speed. So you don't have to worry about your kids riding too fast. Or falling off.
---
Our daughter uses it all the time, and has a blast. It can either go pretty slow, or super fast. Since she's 4.5 years old, we keep it on the slower setting (always with a helmet).
- Wade
Ride for hours. Not just 15 mins.
No more worries about battery-life. Ride up to 2 hours on a single charge. Achieve top speeds of 13 mph with the powerful 500W/800W motors.
---
It has worked like a charm and the battery keeps a great charge to it so he can just run out and ride it around whenever he feels like it.
- V.Spoone
Ride through dirt and snow. Using real ATV components.
Large real rubber tires (10") provides better traction, better stability and higher ground clearance. Shock suspension makes it less bumpy and it is less likely your child can fall.

No more getting stuck in the middle of the road.
---
A lot more power than the 12v or 24v. My 6 year old daughter loves it. Her old 12v would not go up the hills well but this one he's no trouble.
- Eric Robinson
Easy assembly. Dedicated customer support.
The ATV comes 95% pre-assembled. Our illustrated instructions manual and
video
makes assembly a breeze. And if you need extra help, our live customer support line is
one click away
.
---
The front cowling and headlight were damaged during shipping. I contacted the seller and they immediately sent replacement parts for free. Couldn't ask for better customer service than that.
- Chris
Small in Size, Big in Power
The Rosso Motors Kids Army ATV is the ultimate electric quad for children ages 3 - 8 years.

Featuring a 36V battery and 800W motor, it boasts the best power and range for an electric ATV in its category. The Rosso Motors Kids ATV is sleekly designed to be a miniature version of "grown-up" ATVs such as the Yamaha Grizzly, Polaris Sportsman or Can-Am Outlander to give your kids the excitement of real ATV riding in their own backyard, so they can look and feel just like mom and dad!

The Rosso Motors Kids ATV is strongly built with many advanced specifications including big all-terrain rubber tires, aggressive front & rear utility racks, dual LED headlights and a shock absorbent suspension package. Additionally, to ensure the safest riding experience for your child the unit has enhanced safety features such as a disc brake system and 3-speed governor with reverse, which maximize stability and control.
Product Comparison
To create more fun and a safer riding experience for your child, the Rosso Motors Kids ATV has many upgraded specifications and safety features compared to the standard toy ATVs on the market.
| | Rosso Motors Kids ATV | Standard Toy ATV | Outcome |
| --- | --- | --- | --- |
| Battery | 36V | 12V or less | Rosso ATV has more power and speed, as well as a longer range per charge |
| Tires | Inflatable Rubber (10" diameter) | Plastic | Rosso ATV has better traction and stability, as well as higher ground clearance |
| Brakes | Disc Brake System | Drum or No Brakes | Rosso ATV has enhanced stopping ability making it much safer |
| Suspension | Shock Absorbent Suspension Package | No Suspension | Rosso ATV is a much smoother ride |
| Speed Governor | 3-speed with reverse | 1 or 2-speed with no reverse | Rosso ATV is safer for young children |
Recommended Ages
Weight Capacity
Battery
Power
Top Speed
Transmission
Maximum Range
Charge Time
3 to 8 years of age
90lbs (40kg)
36V (3x12V) / 12AH lead acid
800W
13mph (20km/hr)
Electric 3-speed with governor
Up to 2 hours
6 hours for a full charge
Reverse
Brakes
Tires
Wheel Base
Seat Height
Ground Clearance
Product Dimensions (L x W x H)
Net Weight
Yes
Disc
4.10-6 inflatable (11.5" diameter)
28" (71cm)
19" (48cm)
4" (10cm)
39" x 22" x 28"
110lbs (50kg)
SAFE & RELIABLE
Strongly built with many advanced specs and extra safety features
LOWEST PRICE
We offer the lowest everyday prices
FAST & FREE SHIPPING
Fast, trackable and free shipping
HASSLE FREE RETURNS
30-day money back guarantee
Show your kids the joys of the great outdoors
Customer Reviews
10/14/2020
Onesha G.
United States
Kids love it
I just love it
09/07/2020
Anonymous
United States
4 wheeler
very well built product, battery lasts for hours
09/03/2020
Anthony G.
United States
Toy for grandson
Ordering process was super easy. Great product. Kid loves it. Packaged well. Easy to put together Looking forward to grabbing another 1 when granddaughter is a little older
08/20/2020
Henry B.
United States
Great Product and Service (Matt and Donna)
Received the product on Tuesday and completed the assembly process. A little confusion as to the video instructions as they reference the older product. Delivered it to my grandson yesterday and what a joy! He rode and learn the vehicle quickly (he is 3 years old). He loves his "4 wheeler" and the only downside was he cried when he had to stop riding due to bedtime. Attaching a picture with his "spiderman helmet" but we have ordered a real helmet with goggles and gloves. Great service and value for the product! Made my day as a grandad!!!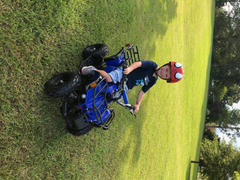 08/14/2020
Anonymous
United States
Great customer Service
Great Service and product Thank you so much