Rosso eQuad T Ride-on 4 Wheeler For Kids - Navy Blue - ASTM F963 Certified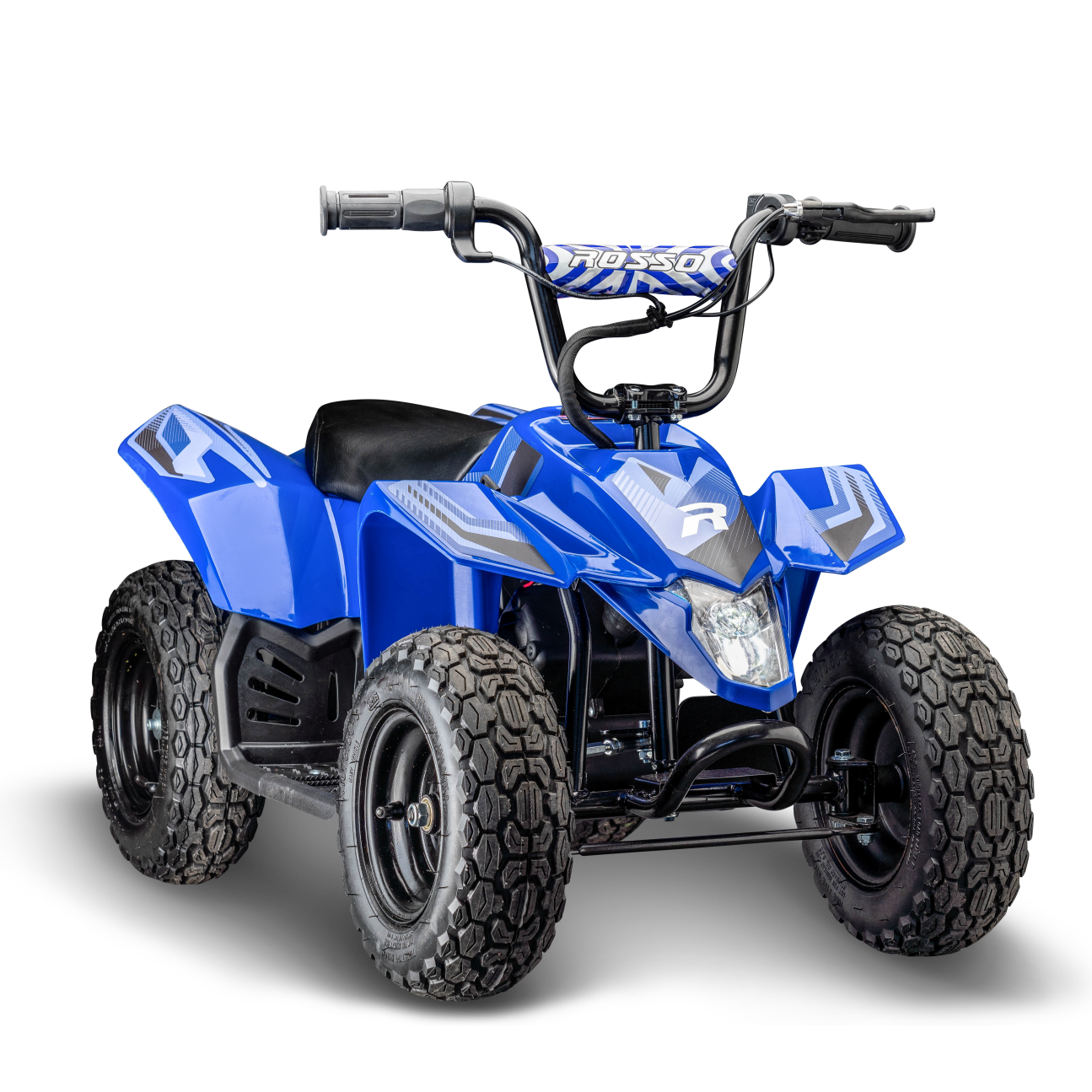 $745.00 USD
Product Code: REQUADT20B
BEST GIFT FOR KIDS

 

- Blue electric quad four-wheeler for children ages 3 - 8 years
KEEPS KIDS SMILING FOR DAYS

 

- Kids can experience the excitement of real ATV-like riding in their own backyard
BUILT FOR All TERRAINS - Powered by the RossoMax e-torque motor - the most powerful, smoothest, electric drive engine. With maximum torque for safety
KIDS LOVE THE LOOK AND FEEL -Innovative enhanced frame with exceptional fit and finish - welding compared to other models is much improved and symmetric. Sporty 3M decal kit and handlebar foam protector to match with the body kit
SEE THROUGH THE DARK AND THE FOG - LED headlight, rear braking light and reflectors for increased visibility and safety
ENHANCED CHILD SAFETY - Remote start and stop - parental control. Heavy-duty handlebar clamps - secures the steering while riding
DURABLE & VERSATILE - Fully enclosed brake and throttle wires for debris protection and clean look. Slick brake lever design engineered for comfort and ease of use. Fully enclosed chain drive train
Specs:
US ASTM F963 Certified

large air-filled rubber tires/wheels for greater stability & comfort

anti-debris drive train system
reverse mode
alarm / locate / siren feature
headlight, rear braking light and reflectors for increased visibility and safety
new full-coverage body kit
highest quality flex plastics (lead-free)
horn for added safety
new improved seating for better balance and comfort
new higher torque electric engine. 
Speed limited to 8mph... yet enough torque to keep on moving smoothly!
Click "Buy now" below and secure your unit today, supplies are limited!

We're sorry this product is no longer available.