eQuad S Pink 500W ATV 4 Wheeler for Girls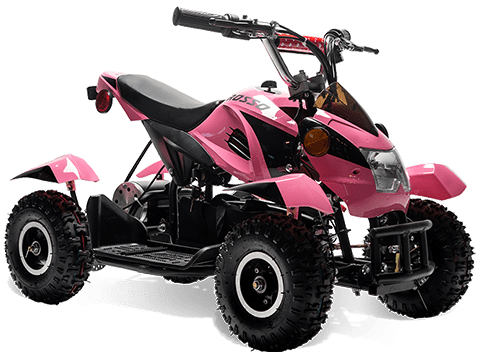 $750.00 USD
Product Code: REATVP20
This product is currently unavailable for shipment to customers in the USA.

BEST GIFT FOR KIDS

 

- Pink electric quad four-wheeler for girls ages 6 - 8 years
KEEPS KIDS SMILING FOR DAYS

 

- Kids can experience the excitement of real ATV riding in their own backyard
BUILT FOR OUTDOOR

 

- 36V battery and 500W motor provide great power and range. Real LED stoplights on the back for extra safety and visibility.
ENHANCED BATTERY SYSTEM

 

- hard shell protective battery case.
ENHANCED CHILD SAFETY

 

- Equipped with a

 

disc brake system, a 3-speed governor with reverse, a safety parental remote start/stop feature, and a safety horn.
DURABLE & VERSATILE

 

- Advanced specifications including all-terrain rubber tires and a shock-absorbent suspension package
We're sorry this product is no longer available.